Let the Good Fun Begin!
(Rules | New Pages | New Files | Categories | Wiki Tutorial | Help Pages)
About Us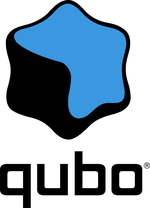 Since qubo.wikia.com has been invaded by liars who state the completely wrong information about Qubo, we have decided to create a wiki for the real Qubo Channel with all of the correct information. What is Qubo you may ask?


Qubo is a digital "24" hour network dedicated to children's programming. It was originally a joint-venture between Ion Media, Nelvana, Scholastic, NBCUniversal, and Classic Media. Now since the contracts with Scholastic, NBCUniversal and Classic Media (which is now part of NBCUniversal through DreamWorks Animation) have lapsed, Qubo still owns the rights to air Nelvana's catalog but has also gotten programs from other companies such as 9 Story Media Group, Splash Entertainment, and WildBrain.


As for the programs, they consist of a mix of preschool shows and shows targeted towards the 6-11 demographic. All of the network's current shows are animated, like Madeline, Bob the Builder, and Harry and his Bucket Full of Dinosaurs as well as several live-action shows including Finding Stuff Out, Giver, and Look Kool.

Before Qubo became a channel, it was a Saturday morning block on NBC, Telemundo, and Ion Television. The NBC and Telemundo blocks ran from 2006-2012, while Ion Television still has a Qubo block called "Qubo Kids Corner" and running on Friday mornings. In 2012, due to NBCUniversal exiting the joint venture (and therefore, losing the rights to their programming), the NBC and Telemundo blocks were replaced by NBC Kids, which featured shows from NBC's own Sprout network (now Universal Kids) until it was replaced in 2016 by The More You Know. Qubo also has an On Demand service but is only available on TV provider Dish.
EXPLORE THE WIKI
PROGRAMS
Current/Returning Programming
Former Programming
NEWS AND HIGHLIGHTS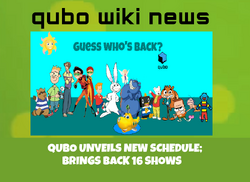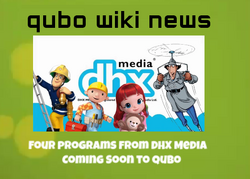 POLLS
Who's the best Qubo friendship?

 

What show are you most excited to see return?

 
BLOGS
Wiki Activity
Create an Article
To create a new article, write its title in the box below.
Latest Video
Did You Know?
Tweets
Chat
Administrators

If you have a problem with the wiki, please contact one of the administrators below!


---
The Qubo Wiki is a fan site and is in no way affiliated with Ion Media and/or its subsidiaries or affiliates.

Community content is available under
CC-BY-SA
unless otherwise noted.